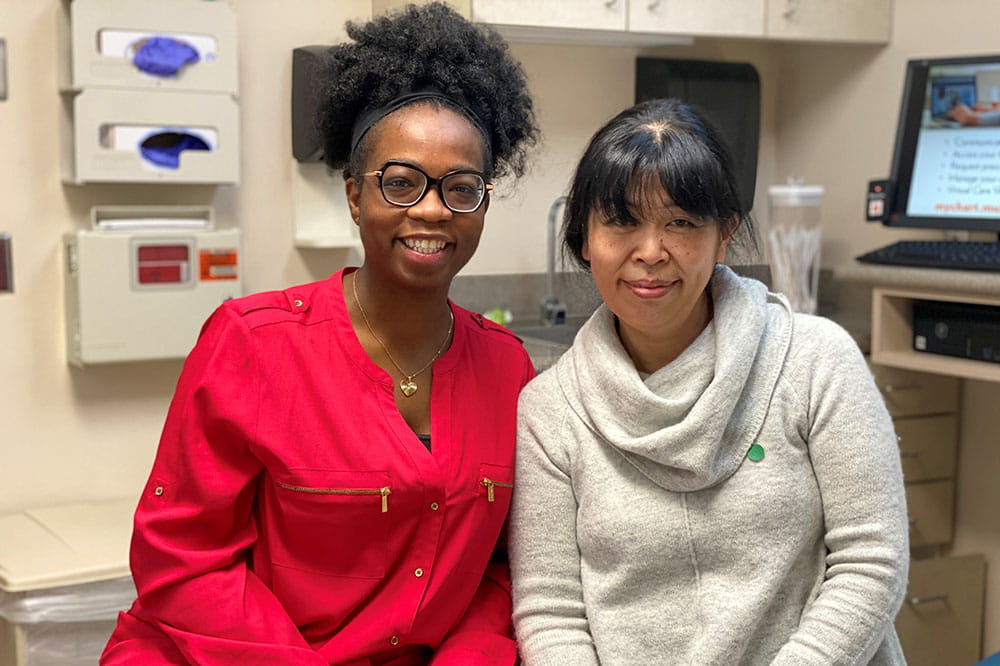 Seeing a child graduate from college is special, but for Mikiko Dollard, 48, her daughter's graduation from La Citadelle in May will be even more meaningful. Neither was sure if Mikiko would be able to attend graduation after being diagnosed with stage 3b cervical cancer in 2020.
"I was still tired and I felt a pressure building up in my stomach. The weeks had passed and I was losing a lot of weight and I knew something was wrong," Mikiko said.
At first, doctors near her home in the small town of Johnsonville, South Carolina, told her she had a urinary tract infection and low vitamin D. But she kept pushing her doctor to first resort to investigate further and eventually had a pap smear and ultrasound done. It was July 2020 when Mikiko heard the words no one can fully prepare for – you have cancer.
Although she has no family history of cancer, Mikiko, a native-born Japanese woman, enthusiastically accepted the diagnosis, determined to do whatever it took to be there for her two daughters and her husband ever since. 23 years. For her daughter Mya, 22, a senior at La Citadelle, the diagnosis was a blow.
"All of this happened in the midst of the COVID-19 pandemic. Citadel students were supposed to limit their movement off campus to help slow the spread," Mya said. "I had to get special leave to go home and see her. At the time, I didn't even know if I was going to go back to school because I was afraid my mother would die. But my mother wanted me to finish my studies, so that's what I'm doing.
In August 2020, Mikiko began a grueling six weeks of chemotherapy near her home. "The chemotherapy was really difficult. By the time this was done I had lost about 30 pounds and felt weak. I couldn't do the things I love, like cooking for my family.
After chemotherapy, Mikiko was to begin radiation therapy at a Columbia facility. However, her radiation treatment plan quickly changed due to her existing fibroids and endometriosis, which would complicate her plan of care. The doctors knew she would need the best specialist to treat her, so in the fall of 2020 she was referred to MUSC Hollings Cancer Center. "I was told the specialists at Hollings would be able to do accurate internal radiation therapy and provide better care. For me, it was obvious. »
It was at Hollings that Mikiko met her team of doctors – Jerlinda Ross, MD, a gynecologic oncologist who would oversee her care, and Samuel Cooper, MD, a radiation oncologist tasked with identifying her radiation therapy to provide the best possible outcome.
Ross said Hollings offers patients what no other facility in the state can – access to clinical trials and specialists who are knowledgeable about the latest developments in cancer care. "We have specialists who can deal with complicated cases to provide the best patient care possible," Ross said. "In her case, the fibroids distorted the imaging of her cervix, which may have impacted where radiation therapy was given or the dose used. of Dr. Cooper, we were able to overcome these challenges and deliver the appropriate dose of radiation where it was needed.
Having her mother in Hollings was a blessing for Mya, who was only a few miles from the Citadel. Both mother and daughter were impressed with the care at Hollings from the moment they arrived.
"The people at Hollings mean a lot to us," Mya said. "They made my mom feel like part of the family and like she wasn't even at a doctor's appointment. My mother can ask questions and trust them completely. You can tell they are genuine and really care about their patients.
Ross believes that caregiving goes beyond the cancer itself – it is about creating a support system and a holistic approach that addresses both the physical and mental health aspects of the patient. "I think that's what we're looking for. We want the patient and their family to feel like we care about them on an individual level – because we do.
Ross thinks Mikiko's story provides women of all backgrounds with an important lesson – if you notice something is wrong with your body, keep seeing your doctor until there are answers.
Inspire the next generation of healthcare workers
More than a year after treatment ended, Mikiko still makes several visits a year to Hollings for routine checkups and scans to make sure her cancer hasn't returned. She has gone back to doing what she loves, including cooking her favorite Asian meals for her family.
Mikiko is grateful to her doctors in Hollings who gave her the chance to live a life after cancer. According to her most recent scans, Mikiko remains clear of any evidence of illness. "My doctors gave me options and involved me in decision making, which meant a lot to me," Mikiko said. "I felt comfortable at Hollings and really trusted everyone who took care of me.
Her cancer journey has had an impact, not only for herself, but also for Mya, who is now determined to help other cancer patients as a nurse.
"I always wanted to be a nurse, but my mother's diagnosis really changed my goal of becoming an oncology nurse," Mya said. "I saw the support and care the Hollings nurses gave her, and I wanted to be that for someone in her life."
Mya also wants to become an advocate for cancer prevention and encourage other men and women to get vaccinated against the human papillomavirus (HPV). HPV can cause several types of cancer, including cancers of the cervix, vagina, vulva, penis, anus, and several types of head and neck cancers. The HPV vaccine is the best way to prevent developing these types of cancer.
Mya has already received her HPV vaccine. She hopes to encourage others to do the same as a future oncology nurse and the daughter of a cervical cancer survivor. "I really became more aware of the importance of maintaining routine checkups during my nursing studies," she said. "I'm a huge advocate for the HPV vaccination which will hopefully prevent others from going through what my mom did."