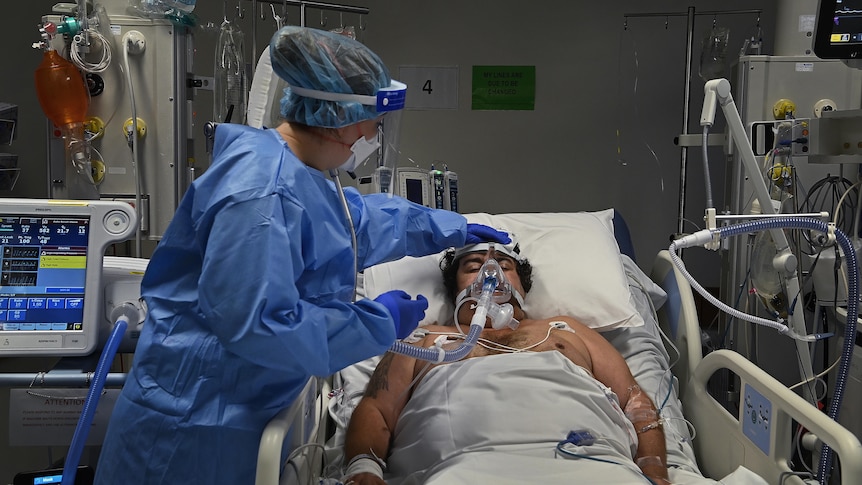 Ballarat Base Hospital has cautiously lifted its code yellow, less than a week after two patients tested positive for COVID-19 outside of its COVID ward.
Key points:
Ballarat base hospital has dropped its code yellow signifying an internal emergency
Code yellow was introduced after two patients outside its COVID ward tested positive for the virus
A number of services remain under quarantine and visitors are still restricted
The code yellow, which signifies an internal emergency allowing a hospital to adopt patterns of care outside of its typical patterns, was lifted on Tuesday afternoon after it took effect last Thursday.
Grampians Health Ballarat's executive director of acute operations, Ben Kelly, said the hospital was back to business as usual, albeit with the continued pressures of the pandemic.
However, a number of neighborhoods remain under quarantine and visitation restrictions remain in place.
Outbreak in hospital
The introduction of code yellow has led the health department to ask residents of Ballarat to consider all other options before presenting to hospital.
At the time, there were 17 patients in the hospital's COVID-19 ward and one in intensive care.
But two patients in non-COVID wards tested positive for the virus last week, quarantining two wards.
As a result, 32 other patients were being monitored for COVID-19 but had not tested positive.
Ballarat has seen a spike in COVID cases. For the week ending April 10, the city's daily average was above 200 for the first time since late January.
According to the latest state health data, 232 cases were recorded last Wednesday, the day before code yellow was introduced.
Similar codes have been triggered at other regional hospitals in Victoria over the past month, including Albury Wodonga, Wangaratta and Shepparton.
Health organizations and experts have raised concerns that a recent change in rules regarding masks, vaccination statuses and the isolation of close contacts will further strain an already strained health system. extreme pressure.
Above and beyond
Mr Kelly praised staff at Ballarat Hospital for their efforts during the "management phase of the COVID outbreak".
"The efforts of every part of the workforce to provide the care and practical actions to keep our patients and staff safe have been commendable."