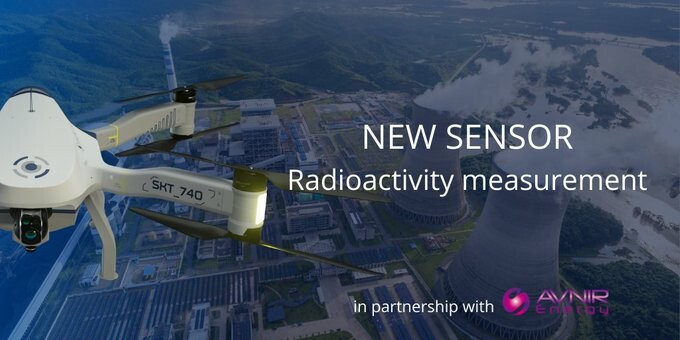 October 7, 2021
Autonomous drone in a box solution, Skeyetech, from Azure Drones, integrates the DIZI sensor from AVNIR Energy to detect radiation at nuclear sites
When we think of security and drones, we usually think of preventing people from climbing to dangerous heights or entering mines. -but the danger could also be invisible threats like radiation. These types of solutions are just starting to be developed for the drone industry and are another way in which drones can bring value to businesses, not only saving money, but also lives.
Radiation, in particular, poses a significant security threat. It is volatile and harmful to humans and can cause costly damage to equipment. Early detection of leaks is important to protect employees and assets, but the way to detect these issues is usually by using humans, on the ground or in manned aircraft, to scan workplaces for these hazards. . Drones are ideally suited because they can allow detection from a distance, thus eliminating risks to humans.
To learn more about the use of these sensors in the energy sector, we spoke with Nicolas Billecocq, COO of Azure Drones, about their recent work with AVNIR Energy to equip their autonomous drone-in-a solution. -box, Skeyetech, of an Ionized Zone Inspection Device, or DIZI, to detect radiation at nuclear sites. He explains that this project was born out of a specific need in the nuclear energy sector.
"One of our customers, a major player in the French nuclear industry, first mentioned the need to integrate such a sensor into its Skeyetech systems and connected us to AVNIR Energy", explained Billecocq. "Skeyetech drone-in-a-box improves security and operations at sensitive sites by enabling BVLOS operations day and night, with limited initial training. It was the first drone-in-a-box solution approved in Europe, and is now field proven in 5 countries with more than 15,000 autonomous flights and 150 users. Because Skeyetech was entirely designed in-house by our R&D center in Bordeaux, we can customize our solution with specific sensors to meet the specific use cases of our customers. For this client, we were able to develop an integrated solution, while confirming that this solution met the global needs of nuclear operators around the world.
AVNIR's DIZI sensor is also cutting edge technology, providing much more data than a standard Geiger counter.
"The DIZI sensor is much more than a simple Geiger counter", explains Jacques Charvin, director of AVNIR Energy, in a recent press release. "It is a scintillation detector capable of detecting, measuring and identifying the radioisotopes present. We are delighted to have succeeded in integrating this state-of-the-art sensor on an autonomous drone ".
Similar to the challenges encountered in adapting most sensors for small UASs, some modifications had to be made to the DIZI sensor to achieve the right level of integration.
"In order to make the DIZI sensor suitable for aerial use, it had to be very sensitive and light," Billecocq told Commercial UAV News. "The main challenge was to find the best compromise between the sensitivity of the scintillation sensor and its miniaturization. Another challenge was then to integrate the sensor into our drone to retrieve the measurement data in real time.
By understanding the requirements of the industry before starting to develop, they were able to strike a balance that met the needs of the industry and offered a safer alternative.
"Skeyetech is now able to offer a permanent presence on site and can perform high frequency missions, several times a day. The Skeyetech with the DIZI sensor can perform regular inspection routines to check the levels of radioactivity throughout a nuclear site, thus enhancing its safety, "said Billecocq when asked how this solution will make these operations safer and more secure. will create additional value for nuclear sites. "This new technology also allows nuclear operators to monitor and reduce their environmental footprint, which is regularly monitored by regulatory authorities. "
Scenarios like this demonstrate not only why drones are a cost-effective, safe and efficient platform for many types of industrial sensors, but also why continuous and autonomous operations, beyond visual line of sight can add many levels of value by increasing the frequency of inspections and ensuring the safety of people.