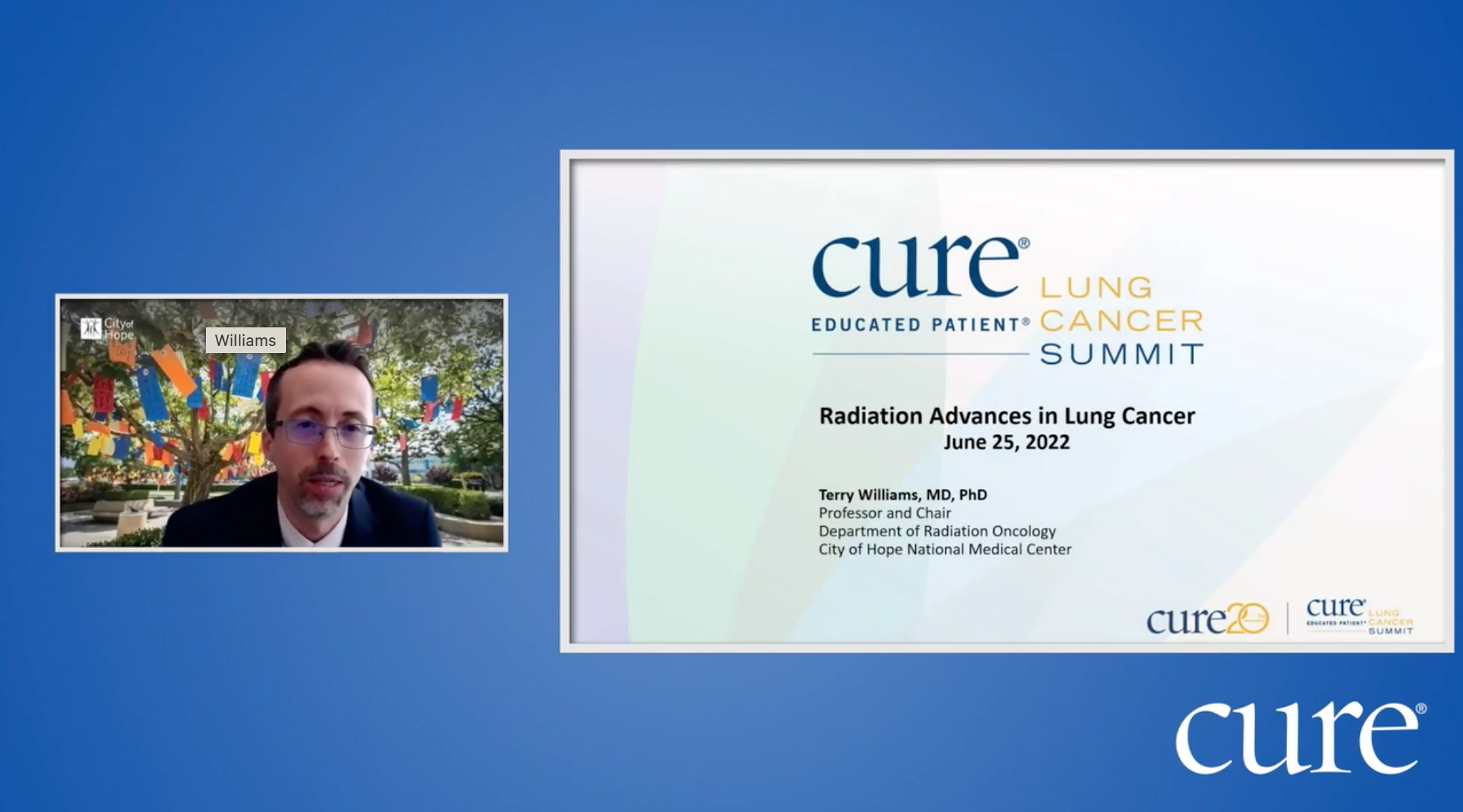 Over the past two decades, radiation therapy has advanced dramatically, allowing lung cancer patients to receive a higher dose of treatment over a shorter period of time, without damaging non-cancerous organs and tissues around the tumor. , while being "very effective," according to one expert.
Dr. Terrance M. Williams, professor and director of the Department of Radiation Oncology at City of Hope Medical Center in Duarte, Calif., discussed advances in radiation therapy over the years and how it has benefited patients in the CURE® Educated Patient ® Lung Cancer Summit.
Williams described radiation as a type of therapy that cannot be seen, felt or heard. During radiation, packets of high-energy photons are directed at the tumor, while avoiding normal tissue, by the radiation machine. The mechanism of its operation is to cause double-stranded DNA breaks in tumor cells, which cannot be repaired and eventually die.
Not damaging normal tissue is a big part of radiation therapy, but it couldn't always be avoided, he said. In the past, radiation therapy was not as precise, causing damage to normal tissues and organs around the tumor.
"I would say that in the past our ability to concentrate the tumor and minimize damage to surrounding normal tissues or organs was not as good as it is today," Williams said. "Our techniques are more precise for (the tumor). Thanks to this, we can minimize collateral damage (caused by radiation) to normal tissues and increase the dose to the tumor, making it more effective.
These advances have made it possible to perform the therapy in a shorter time, which benefits the patient, but at a higher dose.
"For stage 1 lung cancer, for example, in the past, it sometimes took 35 treatments over seven weeks, Monday to Friday. Now we can deliver that in three to five treatments over one to two weeks," Williams explained.
Advances like these have also been "very effective" in treating the disease, he added. A significant advance in space for stage 1 lung cancer is stereotactic body radiation therapy (SBRT) – which has shown disease control rates and cure rates comparable to surgery, which has been the "gold standard" for many years.
"Over the past two decades, we have improved our ability to treat stage 2 and stage 3 lung cancer through this work and formal techniques, and cure rates have increased steadily," said said Williams, adding that there is still more to do. learned on the horizon.
In stage 1 lung cancer, some clinical trials are underway evaluating the combination of radiation therapy and immunotherapy to attack the tumor, "we are very excited about the results of these trials," Williams said.
As part of stage 4, progress has been made in understanding the use of radiation in patients with limited metastatic disease. Some results suggest an improved chance of the cancer not coming back and overall survival. Additionally, several clinical trials are testing immunotherapy and radiation therapy in small cell lung cancer, as well as radiation therapy in combination with new immunotherapeutic agents.
"These are some of the exciting clinical studies we will be doing over the next five years," he said.
It's important for patients to keep up to date with these advances and clinical trials in radiation therapy for lung cancer because it allows them to have a conversation with their doctor and ask them the right questions, Williams concluded.
For more information on cancer updates, research and education, be sure to subscribe to CURE® newsletters here.