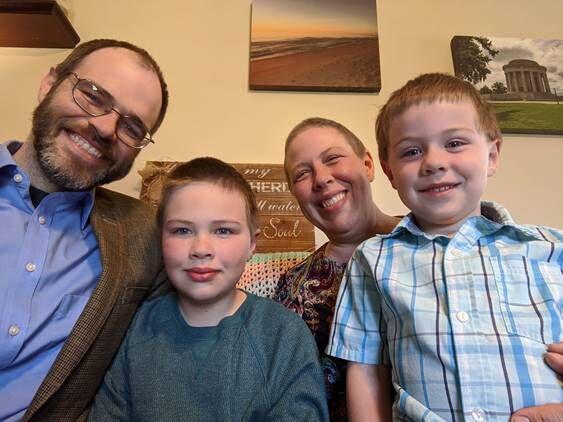 Tara Norman and her husband, Matt, were eager to celebrate their 10th wedding anniversary when a routine mammogram changed everything.
"I was diagnosed with stage 2 HER + breast cancer on August 1, 2019," said Norman, who recently turned 45. "I didn't feel a lump and didn't show any signs of illness."
No one in her family had a history of breast cancer either. The mother of two young boys, Sam and Jeff, underwent six chemotherapy treatments and 12 months of hormone therapy at Good Samaritan Hospital under the care of oncologist Dr Cassandra Lacher, surgeon Dr Lindsey Fleshman and Dr Brian Gebhardt .
Norman said she was lucky that she was able to receive excellent care during local treatment so that she did not have to travel for hours or be separated from her husband and boys .
"My oncologist, Dr Lacher is a wonderful Christian woman who encouraged me. My surgeon, Dr Fleshman prayed with me before the operation. Dr Gebhardt explained everything about radiation so I wouldn't have any questions, "Norman said, adding that radiation technicians allowed her to play Christian music during radiation treatment to keep her calm.
After my chemotherapy, she had a lumpectomy and then had 20 radiation treatments over the course of a month.
Even living more than 14 hours from their family, Norman did not fight alone.
"At the time of my diagnosis, Sam was 7 and Jeff 3. Our church, the First Church of God in Vincennes and our working family at the University of Vincennes have helped us by providing meals, gift cards for meals, rides for treatments, seats of mine with treatments when Matt was teaching, taking care of our boys when I had chemotherapy treatments and providing visible support and encouragement on the days I was at work, "said Norman, whose students and colleagues often wore pink for support their friend. "They helped us maintain as much normalcy as possible for our boys when we couldn't do it because I was sick and Matt was taking care of me."
Finally, Tara and Matt called their parents to come and help them.
"They gladly came and stayed with us for many treatments as it was easier to have our parents at home to take care of our boys' daily needs when I was having treatments."
When COVID-19 became a factor, Norman was still taking hormone infusions and radiation.
"Because my family and I needed to be in quarantine for my safety, we were able to reconnect as family as I started to bounce back," Norman said. "The fight against cancer had left its scars, but with the help of our support system and our faith in God, we are a changed but stronger family. "