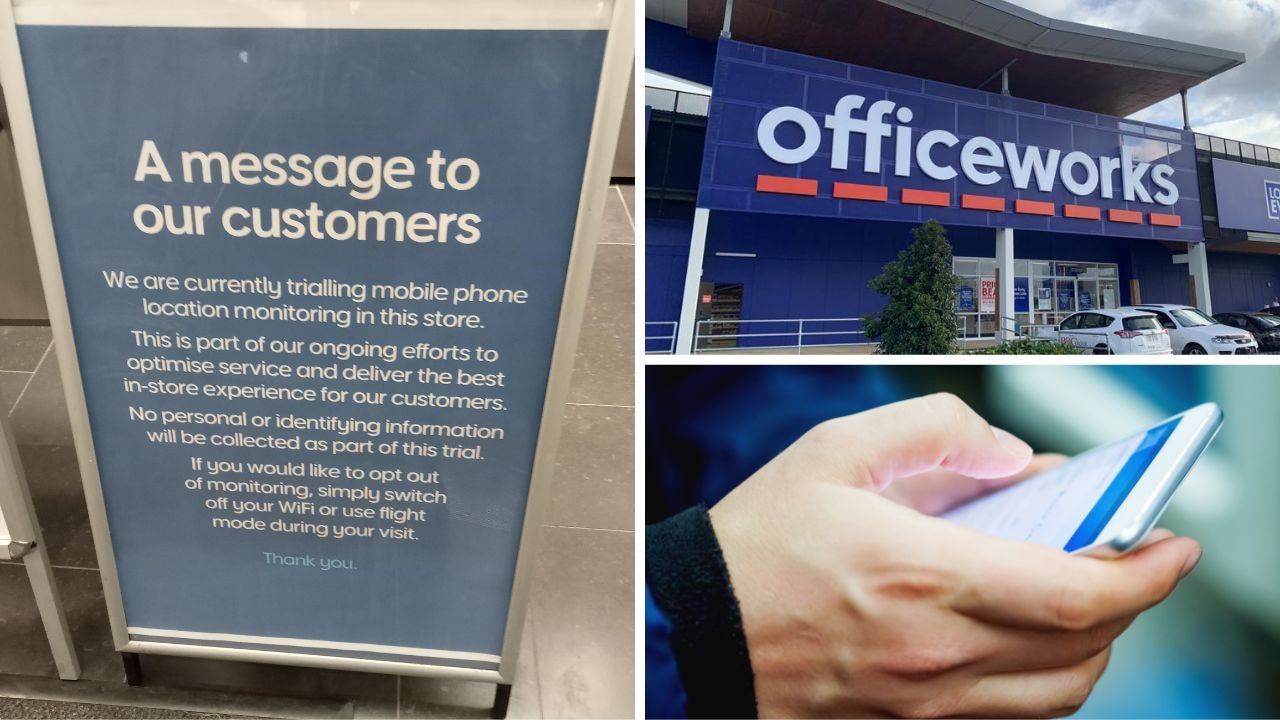 An Officeworks customer has complained about a sign seen outside a Sydney store, which informed customers of the retailer's trial of a 'cellphone location monitoring' program .
The notice said the retailer, located in the CBD, would collect the data to "optimize" the store and the customer experience.
"This is part of our ongoing efforts to optimize service and provide the best in-store experience for our customers," the sign reads.
"No personal or identifying information will be collected as part of this trial."
Customers were told that if they wanted to turn off the monitoring, they should turn off their Wi-Fi or put their phone on airplane mode while in the store.
A photo of the post was posted on Reddit by user Equivalent-Ad7207, along with the caption, "What do Hunter Street Officeworks think they (sic) are playing?"
Other users also seemed less impressed, with one person saying Officeworks could "improve the customer experience" by not tracking people's locations while they're in the store.
Other comments claimed that several stores and malls are already using the technology, although most are not informing customers in this way.
"It's gonna suck not being able to go to most major chain stores or malls," one Reddit user wrote.
"They've all been doing this for ages. This is the first time I see a sign informing the customer.
Another person agreed that this type of tracking had been in place for a while, but noted that it was "still disgusting".
"This stuff has been happening for years on a larger scale with point-of-sale Bluetooth beacons and the like," they said.
"When you go to a mall, they (advertisers/mall management) know which stores and which neighborhoods you're shopping or hanging out.
"Started around the same time, phone updates made it harder to permanently turn off Bluetooth. It's still disgusting.
News.com.au has asked Officeworks for comment on how the retailer uses this data.
Sneaky Wi-Fi tracking technique used by companies
Last month, cybersecurity engineer Rafig Jabrayilov warned that companies were using smart software that could track the location of each customer's phone.
The cyber expert said the software was so precise that it could determine exactly how much time each customer spent looking at certain products on certain shelves.
"For anyone trying to keep their personal information private, it's not fair. Every person has the right to privacy," Mr. Jabrayilov said.
"Buying something in a store shouldn't mean you have to share your personal information."
Businesses can track the physical location of their customers through easily accessible information delivered through their smartphones.
Apple and Android devices emit radio waves with a diameter of between 10 and 20 meters that broadcast its MAC (Media Access Control) address – a 12-digit code that is unique and identifies each device.
Stores, like Nordstrom in the US – at the center of a bomb New York Times item – can implement sensors in physical stores that return accurate information about consumer behavior.
Mr Jabrayilov said major Australian retailers were also involved in tracking consumer devices through their camera faces, but he was unable to pass on the names of outlets.
"They basically try to identify your gender, which store you stay in the most, how many people pass and enter the stores, and which section they stay in the most," Mr Jabrayilov said.
Bunnings and Kmart under investigation
Earlier this month it was revealed Australia's privacy watchdog was investigating the use of facial recognition technology by Bunnings and Kmart.
Australia's Office of the Information Commissioner (OAIC) ​​has confirmed it has opened an investigation into the technology, focusing on how retail giants handle customers' personal information.
The investigations followed a report by consumer advocacy group Choice into retailers' use of facial recognition technology.
Choice analyzed the privacy policies of 25 major retailers and found that The Good Guys, Kmart and Bunnings were logging their customers' biometrics.
Facial recognition uses video cameras to analyze images and capture each person's unique facial characteristics, called facial prints.
But research by Choice found that 76% of Australians were unaware retailers were doing this, despite a sign at the front of stores.
Australian Information Commissioner and Privacy Commissioner Angelene Falk has also opened preliminary inquiries with Good Guys Discount Warehouses (Australia) after reports that the company had suspended its use of facial recognition technology. .
Bunnings chief operating officer Simon McDowell said he was aware of OAIC investigations into the use of facial recognition technology in his stores and would cooperate with them.
"As we have previously explained, this technology is used only to keep the team and customers safe and to prevent illegal activity in our stores and we have strict controls around its use," he said. declared.
Following the publication of the Choice research, Australians shared their anger, calling the use of advanced cameras and the collection of personal data "frightening" and "disgusting".
Some said they would stop shopping in stores as a result.
– With NCA NewsWire

Read related topics:
sydney