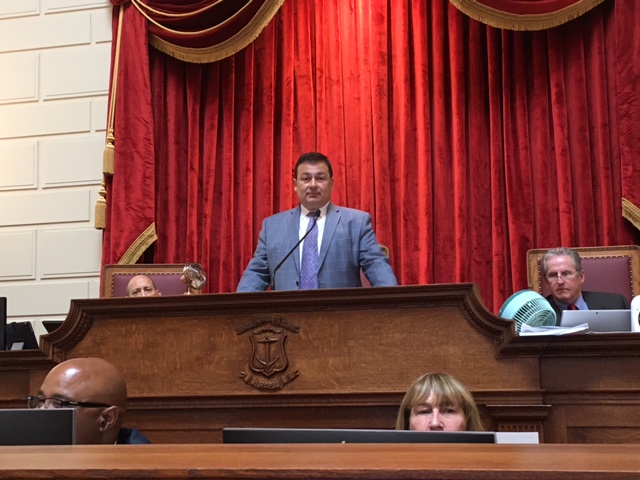 Supporters of raising taxes for Rhode Island's wealthiest residents plan to renew their efforts at the Statehouse.
The Revenue for Rhode Island coalition wants to raise the top bracket of state income tax, from 5.99% to 8.99%, for people whose adjusted gross annual income is more than $500,000.
Proponents say raising the income tax on the wealthiest 1% of Rhode Islanders would bring in $145 million a year.
One backer, State Rep. Karen Alzate (D-Pawtucket), the House proposal's sponsor, calls it a "common sense" measure that would bolster tax fairness and ability government to pay for necessary improvements in schools, infrastructure and other places.
Senior state officials, including Senate Speaker Dominick Ruggerio and House Speaker Joe Shekarchi, have opposed tax increases in the past.
House Spokesman Larry Berman said Monday that Shekarchi would not take a position on Alzate's bill. "He will listen to the testimony provided to the House Finance Committee and carefully consider it throughout the legislative process," Berman said by email.
Senate spokesman Greg Pare said Ruggeiro "believes in a fairer tax code, but doesn't think now is the time to raise taxes."
Ruggerio's Lt., Senate Majority Leader Michael McCaffrey (D-Warwick), however, is co-sponsor of the Senate version of the bill, sponsored by Sen. Melissa Murray (D-Woonsocket) to raise taxes for Rhode Islanders. the most rich.
In a statement, McCaffrey said, "Improving our tax structure so that high earners pay their fair share reduces pressure on everyone who contributes to Rhode Island's tax system, including residents and small businesses. Wealthy Rhode Islanders pay a much lower percentage of their income in taxes than low-income Rhode Islanders. Adjusting the tax code so that people earning over $475,000 pay taxes similar to those in lower income brackets will provide tax relief to the middle class by ensuring the rich pay their fair share.
Opponents argue that higher taxes would send a negative signal about the state's business climate.
Alzate said one way to build support is to highlight the level of need in communities such as Pawtucket.
"To walk the streets where I grew up and show them, you know, our schools are falling apart," she said. "You know, our housing stock is very low. We can't pay our rents. That's how I do it – it's really ground work for me.
Proponents of raising taxes on Rhode Island's wealthiest residents fought unsuccessfully for several years to advance the issue.
The Revenue for Rhode Island coalition plans to announce its efforts at a 2 p.m. press conference Tuesday at the Statehouse Library.
Scheduled speakers include Larry Purtill, president of the teachers' union at the National Education Association Rhode Island; Melina Lodge, executive director of the Housing Network of Rhode Island, and Khadija Lewis-Khan, executive director of the Beautiful Beginnings Child Care Center.
Ian Donnis can be contacted at [email protected] Follow him on Twitter @IanDon. Register here for his free weekly RI political bulletin.