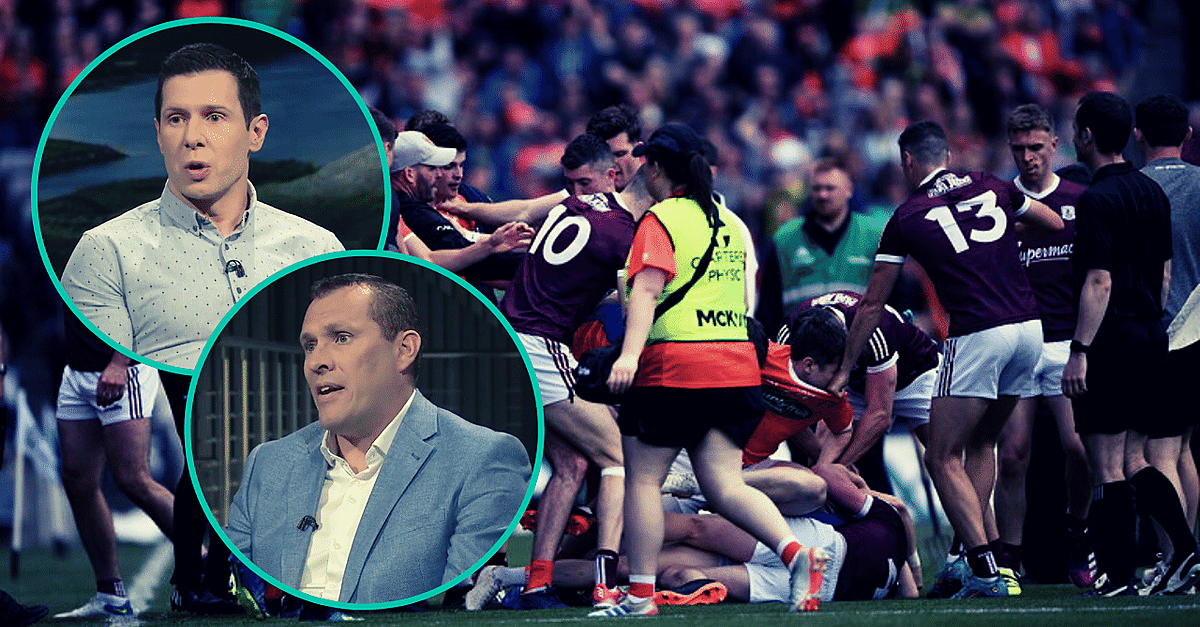 In the aftermath of yesterday's game between Galway and Armagh, we should talk about the incredible level of football on display. It was a contest between two excellent teams who had no shortage of brilliant moments during the more than 90 minutes of action.
As we all know, the post-match conversation was dominated by a different topic.
The brawl that unfolded after regulation time ended in this game is sure to dominate the headlines and radio airwaves for days to come. The eye gouging incident was an absolute disgrace and was rightly widely condemned.
Saying that, the rest of the scenes that unfolded in Croke Park yesterday really shouldn't have come as a surprise. The truth is, such scrums are far too common at the top level of GAA.
We see time and time again in the best inter-county games that both sets of players are involved in unnecessary mass altercations, which is often seen as part and parcel of the sport. A broader discussion around the issue only really happens when we have such an unsavory incident as the one we had yesterday, but the problem itself is deeply rooted in the GAA.
There are few other sports where this happens so regularly. It can happen in football, rugby and other sports, but it often equates to a bit of shirt-wearing and menacing looks. Unfortunately, this can often lead to dangerous thrown punches or grappling on the ground in Gaelic football.
People condemn these incidents as a "disgrace" when a line is crossed, but perhaps it is the location of that line that needs to be changed.
Take last night's edition of Sunday's game for example.
The panel of Sean Cavanagh, Colm Cooper and Ciaran Whelan were discussing what happened in the Galway-Armagh match, where they all rightly said eye gouging was a disgrace. The problem was that Cavanagh and Whelan also defended much of what happened around that incident.
Whelan basically attributed all of this to both teams entering the locker room on the same side of the stadium, despite the fact that it happens in all other sports, usually without incident. Cavanagh had a similar feeling about it, saying a little mass brawl between players doesn't hurt until those on the sidelines get involved.
The #SundayGame The panel discusses the brawl at the end of regulation time in Galway's All-Ireland quarter-final against Armagh. #RTEGAA pic.twitter.com/WtUCM3UbLA

— The Sunday Game (@TheSundayGame) June 26, 2022
Sometimes it's good when the playing members are involved, it's a display of raw emotion in the white heat of battle. Then you involve men who shouldn't be there.

Both teams went to the same locker room. I have no idea why this was the case and it should be looked into. Then it gets ugly, when you have guys there who aren't involved in the game itself and have nothing to lose…

When it gets to this level where guys get involved in this way, it should never be seen in any sporting field or arena anywhere in the world…

It's good up to a point, but after that it's a shame…

I think there should be tougher penalties for guys who shouldn't be there.

There is sometimes a bit of mutual respect between the players, a bit of jostling. It is quite acceptable.
This is the problem that the GAA must tackle.
If these fights are considered acceptable by those who participate in them, why would they think twice before not participating? It's a rotten attitude in the Gaelic games, an attitude that absolutely does not favor the sport as spectacle. Everyone likes to see passion, but that shouldn't lead to incidents like the one we saw yesterday.
The way the GAA treats them certainly doesn't help. While referee David Coldrick was put in a very difficult position yesterday, his solution to the problem seemed to be to send off two of the only players who weren't really that much involved.
They will probably get away with it on appeal, as it should probably be said. As for the main combat contributors, it will be interesting to see what happens there.
To be fair to Colm Cooper, he rightly claimed that the GAA needed to be much tougher in cracking down on scrums in the sport.
The #SundayGame questioned the decision to expel Aidan Nugent from Armagh and Seán Kelly from Galway while Colm Cooper questioned whether the GAA penalties were severe enough. #RTEGAA pic.twitter.com/KFVy5D7llo

— The Sunday Game (@TheSundayGame) June 26, 2022
These scrums tend to happen from time to time, are the GAA penalties severe enough? Are they dealing with the problem appropriately?

Are they doing enough? We see it in club games, we see it in inter-county games? There should be tougher, tougher penalties.

Eye gouging is a disgrace.
This is an all too common problem on the GAA, which doesn't seem to get better. It's no wonder the attitude of many at the top of the sport is that mass brawls are a normal part of the game.
At a time when well-known pundits are pontificating on a made-up problem of children being kicked out of Gaelic games due to a shortened inter-county timetable, perhaps we should be concerned about the problem of parents keeping children away from a sport which frequently features dangerous brawls on the touchline.
This is a more difficult conversation, but much more important.
SEE ALSO: Tense exchange between Kieran McGeeney and BBC Journo after Armagh loss