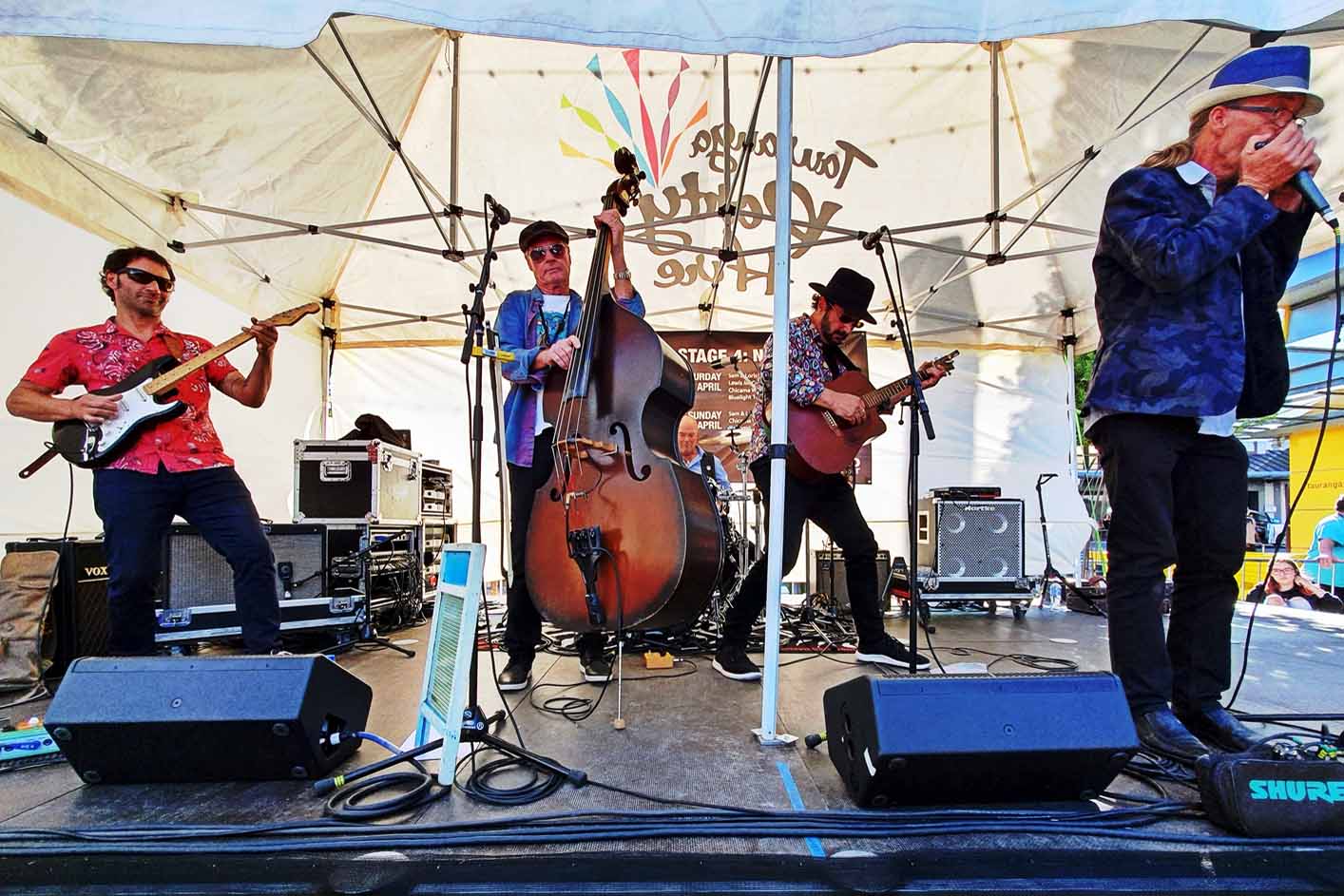 Kokomo's new album "Workhorse" has been preparing to hit the radio airwaves for two years and is finally out.
Bay of Plenty band Kokomo create a distinctive sound with their New Zealand blues and roots music. Formed in the 1990s, Kokomo have played major rock, blues, jazz and folk festivals, having toured extensively across New Zealand. Along with their impressive discography, Kokomo released "Workhorse" earlier in July.
"It's really an album about New Zealand," says Kokomo vocalist and acoustic guitarist Derek Jacombs.
"There are songs about places in New Zealand and the kind of things people do, but all approached with hopefully a touch of levity and humor."
"We had a very positive reaction; I think that's kind of the best reaction we've had so far.
Derek says he can't choose a favorite track on the album and there's a mix of moods 'Workhorse' gives off.
"So there's Highway 29 blues, which is a very slow, mournful song.
"Then there's a big, what I call a four-beer boogie, 'The bars are going to close,' which is just a chance for everyone to let off steam and have a good dance. We often end our gigs with that one.
With Covid-19 shutdowns and restarts, the album has been in the works since 2020, Derek explains.
"The original idea was to release it last year, but after canceling tours during the year, we realized we couldn't go out and play the songs live, so we ended up releasing it. hold back until this year, like a lot of New Zealand bands, says Derek.
What's remarkable about "Workhorse" is that it's the first album that new Kokomo guitarist Santiago Rebagliati has played on.
"Santi' joined the band during lockdown last year, so he's been with the band for about a year, but that's the first thing he recorded on," Derek explains.
"Santi is from South America and he has a distinct and different style and it was when he went to play 'Workhorse Blues' that we all stood back and said, 'Wow, this is going to be good!'"
So far, "Workhorse" has garnered attention in New Zealand, Australia and even Argentina.
"A few people have contacted us to say they're playing it on radio shows and not just in New Zealand, which has been quite gratifying," says Derek.
"Everyone hears music in their own way, so hopefully people will bring their own experiences to 'Workhorse' and take something from it."
Visit the Kokomo Facebook page at: https://www.facebook.com/KOKOMO.NZblues to listen to 'Workhorse' on the platform of your choice.