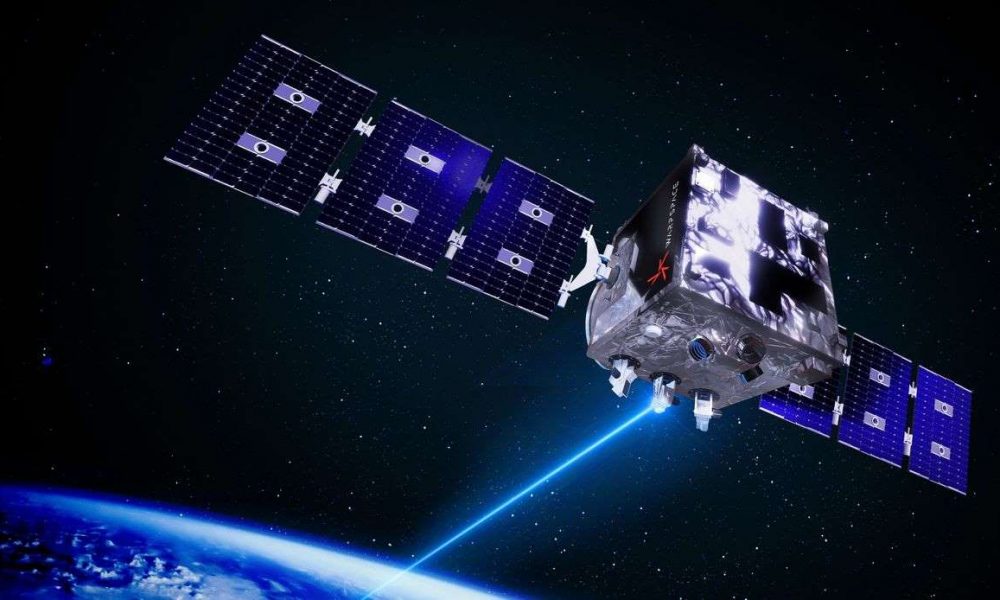 Warpspace (Tsukuba City, Tochigi Prefecture), a space company founded at the University of Tsukuba, announced on May 31 that it will launch a laser-based optical communication network in space as early as winter 2024. If this materializes, it will be the first private service of its kind in the world.
The service is expected to have uses in many fields, including disaster prevention, military, and security. And, the company aims to form optical communications linking the moon and earth in the future.
Ten times faster than radio waves
The new service, "WarpHub InterSat", will launch three satellites capable of optical communication into a medium Earth orbit of 8,000 to 20,000 km above the ground. These satellites will communicate with other satellites operating in low Earth orbit 400 to 1,000 km above the ground and send this information back to Earth. Warpspace satellites and ground stations will be equipped with light receivers and transmitters. They will use near-infrared light to find each other's position, then exchange data if they match.
There are some problems with conventional satellite image transmission processes, which use radio waves. For example, there are limitations on the frequency of radio waves and where transmission and reception can be done on the ground. If the optical communication service is put into practice, its usability will increase. Still images and video from the satellites would be available almost in real time.
'LEIHO' is coming
The first satellite, "LEIHO", is a cube with a side of 1 meter that weighs more than 200 kilograms. The company is making progress with its preparations and is aiming for an October 2024 launch. A free trial service could be available as early as winter this year.
The company will begin commercializing the service in 2025, and three more satellites are expected to be launched in 2026. By exploiting and integrating multiple optical communication satellites, continuous high-speed communication between satellites and Earth will become possible.
The transmission speed will be 1 Gbps (gigabit per second) at the start of the test service, but will eventually be increased to 10 Gbps. According to the company, it is up to a few dozen times faster than radio wave transmissions, depending on weather conditions and other factors.
At the same time, Warpspace is in the process of setting up ground stations and planning about 20 locations in Japan and overseas. Locations are currently being selected and a ground station in Japan will be built as early as September 2022.
Applications in the fields of security
Of particular interest is the application of this technology to the fields of disaster prevention and security. In terms of disaster prevention, the speed of recovery and reconstruction is expected to be accelerated when satellite imagery can be obtained quickly immediately after a disaster occurs.
During the Russian military invasion of Ukraine, the Ukrainian military used satellite images from US space-related companies to help achieve results in analyzing part of the wartime situation. According to Warpspace, they have received inquiries about using their technology for disaster prevention and security purposes.
Additionally, satellite data would be useful in understanding land use, traffic volumes, and the growth of different agricultural commodities. It could also be used to estimate the amount of oil stored in certain locations by looking at the position of oil tank lids.
From Earth to the Moon and back
Additionally, Warpspace is aiming for an optical communication service between the earth and the moon. In January 2022, the company was commissioned by the Japan Aerospace Exploration Agency (JAXA) to study how to put into practice an optical communication system that connects the moon and the earth. Competition for lunar exploration and development is heating up around the world, and the company wants to start service in 2030.
CAPTION: After the press conference, Satoru Tsunemachi (right), CEO of Warpspace, takes a commemorative photo with a model satellite in his hand. May 31, 2022, Tsukuba City, Ibaraki Prefecture. (Photo by Nobuhito Matsumura)
During a press conference on May 31, Warpspace CEO Satoru Tsunemachi said, "From Tsukuba to the rest of the earth, to the moon and even further to Mars, we want to grow our telecommunications business while remaining in tune with the future of human activity. in the space."
Warpspace was established in 2016, based on space-related research and development in communications satellite technology at the University of Tsukuba. In 2021, a satellite demonstrating the company's technology was launched and successfully orbited from the International Space Station (ISS).
RELATED:
(Read the report in Japanese on this link.)
Author: Nobuhito Matsumura